Reading Time:
2
minutes
Pasni is a normal size city and a fishing port that comes under Gwadar district, Balochistan. The population of this city is more approximately 33,000.
The area is hardly 450km away from the Capital of Karachi. If talking about the facilities, the city has a modern fish harbor and port of Pasni, and fishing is what the main occupation of the citizens of Pasni. The frozen catch is also sent to Turbat and Karachi for sale in the larger markets.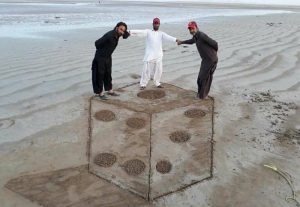 In this article, we are discussing the amazing self-taught Sand artist of Pasni. The group of artist spends all of their life in Pasni running around on the beach sands.
This is the reason they are now able to do wonders with this sands and amazes all those who see their work for the very first time.
The creations from sand by these young talented people generated a passion among the other peoples of this area as well.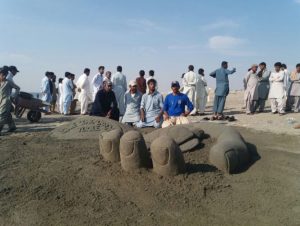 They are now also organizing annual festival and competitions to continue and motivate the passion inside every individual.
There are several 3D sand arts which you could not believe made by them. The most amazing thing about them is that they learned all of these skills on their own.
Without any proper guidance or teaching, they learned and create this amazing art in the sand of Pasni.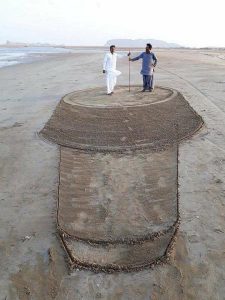 They also mentioned that it will take around 13 to 15 hours for completing any kind of piece. It is a clear sign for us that these people have a lot of motivation and dedication for this work. But the sad thing is that this art is not generating a lot of money.
The problem needs to be resolved as soon as possible so we can see some more talented and emerging sand artist in the future as well.
Video of the Sand Artists from Pasni