Reading Time:
3
minutes
Masooma Rajput is from Balochistan's, Which is the Pakistan's most backward province, but due to her hard work and dedication, Masooma is the 25th lady who is mastering in cancer biology at Heidelberg University Germany.
According to Masooma, Not even a single guided her, but her passion showed her the path of destiny. "If a person decides and wants something, then nothing is impossible."
Masooma says, "My educational journey was to become a nurse but I was wishing to do something more interesting.
So, I chose more articles in O Level and A Level so that I have more option."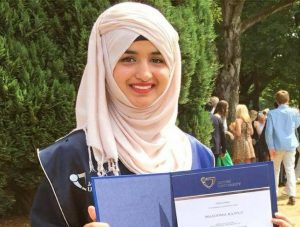 Masooma did not received A-Level education from regular school, but passed privately in the examinations.
According to Masooma, "I preferred bio-commastarium in O and A Level, There are 8 articles, but I got 18 articles out of which in 14 articles got A grade. Similarly, the A level contains three required articles, but I obtained Seven out of Seven.
She says, "My journey was not easy because this decision is difficult for any girl. When I decided this,
I  was opposed and family started saying that this is a girl, how will she do all this at her own and how will she stay in a country outside Pakistan, but with the encouragement of family members and close relatives I got energy.
I had never traveled alone before that but since I wanted to do something, that's why I ignore everything. '
The father of Masooma Rajput is from the department of education, and apart from Masooma, her other sisters are also studying in the fields of interest, while another sister is also in Germany.
How was this possible despite having a backward state like Balochistan?
According to Masooma, "It was difficult because there was no institutionalizing council in Quetta nor any other person adopted this department, which I would suggest.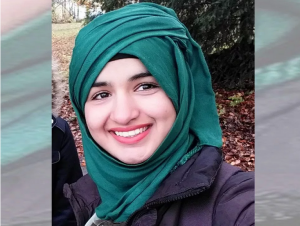 It is a misunderstanding, Masooma said. Research is a different thing and it is the other thing to treat a patient.
In Risk, you find the cause of any disease and solve the solution to eliminate it, whereas the doctor works with any patient's medication. To treat, that's why my work is not a doctor.
She said: 'First I want to complete my studies and research. So, than I can serve my people anywhere.
Since research, There is a great work and it is not a job but institutional work, which can be governed, if the government has taken such a step, I would like to happily return and research in Pakistan.
According to Masooma, she wants to research after completing her masters on cancer, for which she has attained an intruder at the Harvard University of America and now she is struggling for a scholarship.
She said: 'I just did not decide who I would study on, but my interest is to research on immunology and research on Liu Koala (blood cancer) during the intruding of Harvard University. Will.
According to Masooma: 'It is difficult for any girl to be alone, but when you are alone, your motivation increases and you can make better decisions.
For any work, it should be determined as to what to do, then no obstacle can come in front of you, and the doors of success will automatically open for you.