Reading Time:
2
minutes
Pashtoon is one of the well-mannered, religious and hardworking tribe of Pakistan. The Pashtoon are so loving, caring and family oriented too. They work hard for their families and enjoy their lives with them.
If we talk about history so the Pashtoon has done a lot of sacrifices for the people Pakistan just like others did. The ratio of Pashtoon beggars is very low as you can see them always doing hard work to run their houses. If talking about the business you will find every standard of business Pashtoon is doing from stalls to different bigger businesses.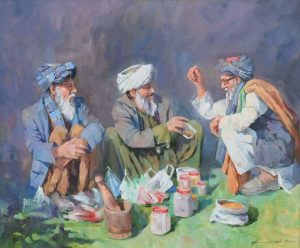 There are a lot of castes in Pashtoon including:
Kakar

Khilji

Yousafzai

Noorzai.

Achakzai.

Durani.

Dawar.

Sulemankhel etc.
If we talk about the festivals, the Pashtoon celebrates it with so much enjoyment. There is also a concept of "valvar" at the weddings from groom side to bride side.
The weddings of pashtoons are so joyful with different kinds of Attan dance, KhattakAttan, and different kind of attan dances. Their cuisines are so delicious to taste some of the famous dishes of Pashtoon are dam-Pukht,  Chapli kebab, Shinwari tikka, roasted lamb, Pekhteh (mutton beef/ribs), Kabuli pulao, NarayGhuwakha etc. The daily trible issues of Pashtoon tribes are solved through dialogues which in the traditional language called as "Jirga" by the elders of any caste or Sardar. If we talk about Pashtoon so they very much believe in the Quran and Sunnah and lives accordingly.  You will never see a woman without dupatta, all these things are in the basics of Pashtoon family.
The hospitality of pashtoons are also so famous in balochistan. They consider the guests as the blessing of Allah and do not let any chance to give comfort to the guests.
Pashtoon are one of the tribe in Quetta with highest literacy rate and there are famous doctors, teachers and others giving back to the community as well.