Reading Time:
5
minutes
Mateeullah Tareen belongs to a Pathan Family he was born and raised in Quetta but lives in Germany, He is a talented and intelligent person at studies.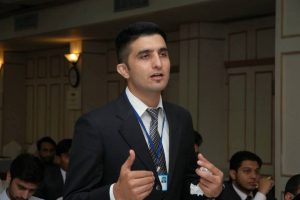 Committed researcher, writer, presenter and project organizer; with demonstrated record of success in various positions of responsibility and group collaboration.
Experience in research, parliamentary affairs and electoral system and proposal writing.
Tenacious in pursuit of solutions, and an adaptive learner within multi-cultural context.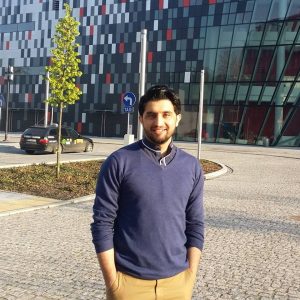 EXPERIENCE
CULTURE GOES EUROPE eV – Leader/Youth Organizer Erfurt, Germany Oct 2016 – Current
 Designed (methodology & methods), Co-wrote, and implemented EU funded applications/projects
 Helped secure funding for more than 3 projects that amounted for more than 100 thousand Euro
IIR PRAGUE – Research Assistant (Intern) Prague, Czech Republic Feb – May 2017
 Wrote research paper on the 'Potential Economic Impact of Brexit on the EU'
 Edited research papers authored by lead researchers, supported in data collection and report writing
PARLIAMENT HOUSE PAKISTAN – Young Parliamentary Associate (YPA) Islamabad March – Sep 2015
 Researched for, debriefed, collected data and analyzed and assisted Senate's Functional Committee on Human
Rights and Standing Committee on Cabinet Secretariat
 Identified and presented pressing human rights violations and helped executing field visit to Balochistan
 Underwent through a month long extensive parliamentary research training
QUAID-I-AZAM UNIVERSITY – Research Assistant Islamabad, Pakistan Nov 2014 – Oct 2015
 Part time assistance to the DAAD Long Term Guest Professor
 Researched on gender issues, parliamentary performance and assisted in organizing summer schools
HBS ISLAMABAD – Research Associate Kabul and Islamabad Feb – Sep 2015
 Interviewed and translated for lead researcher on Gender Quota Performance in the Afghan Parliament
 Facilitated (part time) in field research, literature review and data collection
UNIVERSITY OF COIMBRA, PORTUGAL – Research Assistant Islamabad Mar 2014 – Nov 2014
 Assisted Dr. Daniel Pineu on the Project 'Politics of Drones in Pakistan, Afghanistan and USA'
 Conducted interviews and focus groups and collected data for analysis
YOUTH PARLIAMENT – Chairman Special Committee Islamabad, Pakistan Jan – Dec 2013
 Introduced several resolutions, motions and bills on the floor of the house
 Wrote and compiled report on situation in Balochistan as Chairman Special Committee on Balochistan
 Critiqued, debated and discussed pressing national and international issues
GARRISON DEGREE COLLEGE – Lecture Quetta, Pakistan Nov 2012 – Dec 2013
 Taught History and Pakistan Studies to undergraduate students and organized several extra-curricular activities
 Managed administrative affairs of the History Department as its head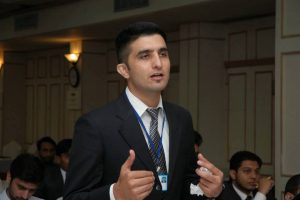 Education
Willy Brand School of Public Policy University of Erfurt – Master of Public Policy Erfurt, Germany 2015 – 2017
Specialized in Public and Non-Profit Management, International Affairs and European Public Policy 
Government College University (GCU) Lahore – Bachelor of Arts Lahore, Pakistan 2007 – 2011
Majored in History; minored in Political Science and Philosophy
Federal Government Degree College – Intermediate Quetta, Pakistan 2005 – 2007
Majored in Economics, Statistics and Mathematics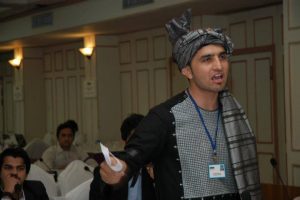 LITERARY WORK:
'The Process of Democratization in Afghanistan: The Role of Wolesi Jirga Elections' (Master Dissertation)
'Potential Economic Impact of Brexit on the EU' (Institute of International Relations, 4 June 2017, online)
'Negotiating Vulnerabilities, Survival and Interconnectivity – Afghan Refugees in Pakistan' (Heinrich Böll
Foundation Magazine, Berlin)
'The impact of Afghan Refugees in Balochistan' (Scientific Ravi GCU Lahore, 2012)
'The socio and economic impacts of Afghan refugees in Balochistan' (B.A. (Hons) Dissertation)
'Contemporary Balochistan in Crisis' (The Gazette GCU Lahore, 2011)
INVITED TALKS AND PRESENTATIONS:
'Conflict and Resistance in Balochistan: the Role of Youth', Humboldt University, Berlin, 8 Dec 2016
'Anti-Corruption Laws and the Role of Youth Fighting Against Corruption', Development Resource Solutions,
Quetta, 5 Sep 2013
'Youth Parliament (PILDAT): Youth in Politics', Youth Forum, Quetta, 12 Aug 2013
AWARDS:
Received 'Faculty Development of MSc leading to PhD for Candidates (Balochistan), 2015' scholarship by DAAD
and Higher Education Commission Pakistan
Academic Certificate of Merit for first position in B.A. (Hons.) in the Faculty of History, session 2007-2011
SKILLS:
Grant writing and Policy Analysis,
More than a year experience in the field of research as research assistant in different projects
Years of experience in management and organization of Seminars, Conferences, meetings and study circles
Experience and knowledge of parliamentary affairs
Microsoft Office that includes Microsoft Word, Excel and Power Point
Strong presentation and debate skills
LANGUAGES: Pashto, Urdu: Native | English, Punjabi: Superior | German: Advanced | Dari: Beginner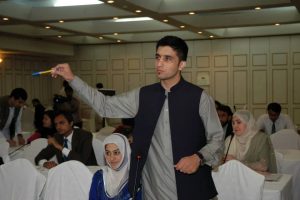 ACTIVITIES:
Executive Director and co-founder of Youth Forum Pakistan
Summer Schools: 'Muslims and the West' (Morocco, June 2014); 'Democracy and the Political' (Peshawar, Sep 2014);
' Reviewing Political Participation and Governance in Europe and South Asia' (Germany, Jul 2014)
Participated in Erasmus+ Training Courses and Youth Exchanges: 'We Against Hate Speech 2.0' (Serbia, Oct 2016);
'EVS Project Management' (Spain, Mar 2017); 'Xenophobia Revisited' (Germany, Jun 2017); 'Communication With
No Words' (Czech Republic, Oct 2017); 'Emotional Management' (Spain, Nov 2017); 'Tools for Youth Exchange'
(Hungry, Dec 2017); 'When There is a Crake' (Italy, Feb 2018); 'In Media We Trust' (Germany, Mar 2018)
Positions held: President Garrett History Society GCU Lahore (2010-2011); President Blood Donor Society GCU
Lahore (2009-2010); Member National Youth Caucus on Education of Pakistan Coalition for Education Islamabad
(2014-2015)
Volunteered for organizing SAARC Youth Conference 2014 in Lahore;
Sports: Basketball, Hiking, ultimate and fitness
REFERENCES: AVAILABLE UPON REQUES
If talking about education so below is the list for the readers.
He completed Matric from Islamia Model High School Quetta.

FSC from FG Degree College Quetta Cantt.

Graduation from GC University Lahore.

MPhil from Quaid-e-Azam University Islamabad.
If talking about life experiences so below is the list for the readers.
Mateeullah Tareen Journey had so many hurdles which he faced through hard work and dedication.
He is a source of inspiration for thousands of young blood in Balochistan. 
Youth has to learn that nothing is impossible in this world if they work hard and consistent. 
Social Account