Reading Time:
2
minutes
Waleed Raza Abbasi was born and raised in Quetta, Balochistan.
He completed his schooling from Tameer-e-Nau public high school Quetta. Due to the 20% of eye visibility issue, he did not be able to continue further studies.
Despite the fact, Waleed did not lose hope and started learning web development Courses on youtube and other free resources.
Waleed Hard work and dedication made him on the point where he earned not only money but fame too.
There may be a lot of web developers available in Quetta but we have put him in the article just because of his dedication and eyes issue.
He is earning from some of the best online job placement websites including fiver and up work. He is a co-founder of Tanzeem Ittihad Eman, Volunteer at Quetta online, Member at JZT Pakistan and there are other accomplishments as well. 

The main accomplishment of him is that he did all this on his own. There are different people who have some disabilities but they keep the disability as a hurdle in front of their life.
But Waleed Raza Abbasi did not lose hope and tried his best with eye disability and make himself to the place where he was featured by other peoples as well.
Waleed Raza Abbasi Amazing Story in the Video
There are some famous personalities saying about Waleed Raza Abbasi.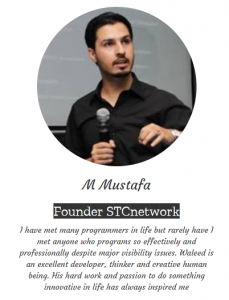 I have met many programmers in life but rarely have I met anyone who programs so effectively and professionally despite major visibility issues. Waleed is an excellent developer, thinker and creative human being. His hard work and passion to do something innovative in life has always inspired me.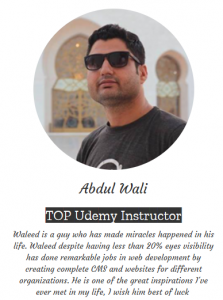 Waleed is a guy who has made miracles happened in his life. Waleed despite having less than 20% eyes visibility has done remarkable jobs in web development by creating complete CMS and websites for different organizations. He is one of the great inspirations I've ever met in my life, I wish him best of luck.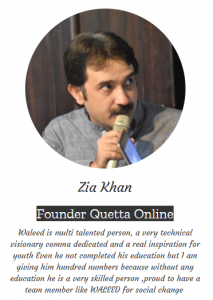 Waleed is multi talented person, a very technical visionary comma dedicated and a real inspiration for youth Even he not completed his education but I am giving him hundred numbers because without any education he is a very skilled person ,proud to have a team member like WALEED for social change.