Reading Time:
3
minutes
This global challenge is an opportunity to work on real-time space challenges. It will be held in 5 major cities of Pakistan; Quetta, Lahore, Islamabad, Peshawar, and Karachi.
It is an international level event. NASA is allowing an opportunity to everyone from scientists, coders, designers, technologists, storytellers developers from all age groups as well.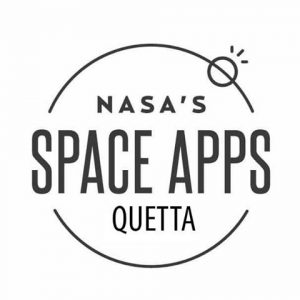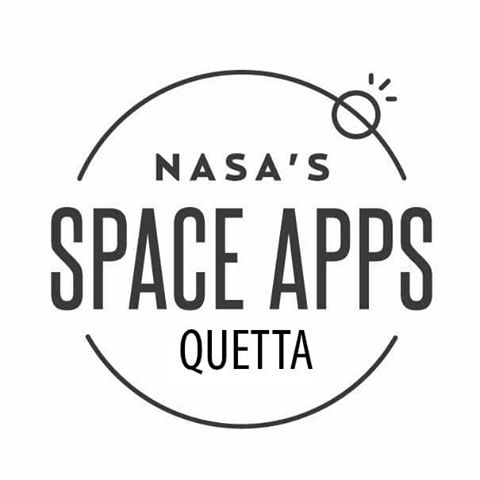 So, we were looking for Sponsors, Partners, Volunteers, and Participants.
Do you dream to become a Space scientist? An astronaut? Want to join NASA, ESA, ROSCOSMOS or any Space agency?
Then what are you waiting for? Sign up for free, participate in the competition, and have access to all the information available on NASA…!!!
https://2019.spaceappschallenge.org/locations/quetta
Facebook Page
https://web.facebook.com/spaceappsquetta
Now in its 8th year, Space Apps is an international hackathon that occurs over 48 hours in cities around the world. Coders, scientists, designers, storytellers, makers, builders, technologists, and everyone enthusiastic about space come together to address challenges we face on Earth and in space! Last year's hackathon was our largest yet, with more than 200 events and 18,000 people participating across 6 continents.
WHO CAN ATTEND?
Anyone. Absolutely anyone! Space is for everyone. If you have a background or are interested in business, entrepreneurship, science, art, history, engineering, design, law, technology, mathematics, education, health, sports, performing arts, hospitality, automotive mechanics and many other areas, then you're perfect for this hackathon. And no, you don't have to know how to code, though you can if you want to. It's amazing what ideas and solutions people from various background come up with.
We said above that "Space is for everyone". You might not know it, but everyday life is heavily reliant on space and space-related products and services. As the 21st century heads into its third decade, this is only going to increase, meaning more opportunities for everyone to work "in or with space".
WHY NASA SPACEAPPS CHALLENGE?
Space Apps introduces problem-solvers worldwide to NASA's free and open data. NASA missions to Earth, our Sun and solar system, and out into the universe – all gather data in pursuit of new knowledge, to expand our understanding through new scientific discoveries, and to help us to improve life on Earth. By using NASA data to solve each year's challenges, Space Apps teams learn about NASA's data, and share in the creation and application of the knowledge that results.
Space Apps inspires collaboration, creativity, and critical thinking, fosters interest in Earth and space science and exploration, and encourages the growth and diversity of the next generation of scientists, technologists, designers and engineers. Space Apps is managed by the Earth Science Division, Science Mission Directorate, at NASA Headquarters in Washington, DC.
Space Apps is a NASA-led initiative organized in collaboration with Booz Allen Hamilton, Mindgrub and SecondMuse.



WHO ARE THE ORGANIZERS?
The Lead Organizer for NASA Space Apps in Islamabad, Lahore, Karachi, Quetta and Peshawar is Mohammad Iftekhar Yezdani, and he is also the Outreach Coordinator for Planetary Society in Pakistan, Ambassador of Lunar Mission One, UK, Lead Organizer for ActinSpace in Pakistan, Editor of RaheQamar Daily (Space & Aerospace News), a science journalist, a TEDx Speaker, and a local winner of NASA Space Apps challenge in 2016 at IST. His motivation is the necessity of collaboration in order to drive innovation and meaningfully address complex global space challenges.
The Co-Leads from all five cities have teamed up to bring this year's NASA SpaceApps Challenge a reality.
NEED SOME MOTIVATION?
This might help! Watch this video:
We're busy sorting out the details for this event and we'll be providing more information here in the days to come, so keep checking this page for updates.
In the meantime, here are a few quick points:
BootCamp/Information Session will be held a few days before the event

Location will be shared shortly

You will be able to register for the session soon

NASA International Space Apps Challenge Days

Start: Saturday 19 October 2019, 8:00am PST
End: Sunday 20 October 2019, 9:00pm PST
Venue: To be disclosed soon

How to form and register Teams?

You can form your team with your colleagues prior to the event, however, you must each register individually.

Don't have a team? Go ahead and register individually, meet people at the BootCamp/Information Session to team up or you can form a team or join someone else's team on Saturday 19th October morning.

Best teams are formed with people of diverse capabilities team up even if they had never met before!
REGISTRATION
Registration is OPEN so you can get involved right away!
Please contact the Lead Organizer with any questions or ideas, or if you are interested in being a volunteer, mentor, sponsor or partner as well.
SPONSORS:
Great names to be shared soon.