Reading Time:
2
minutes
Habib Panezai is basically from Khanozai, but he spends most of his time in Quetta due to work.
Khanozai is a place, 75 km away at the northeast side of Quetta. Khanozai is the combination of two Pashto words Khano and Zoi and the meaning of these two words are Son of Khano.
Habib Panezai completed his education in matric from Govt. Central High School Quetta, Completed his B.A, B.Ed from the University of Balochistan.
He is one of the talented Pashtoon personalities and pioneer of PTV.
If talking about his performances, So he has performed in lots of PTV projects with his outstanding acting.
He is a multi-talented individual with the ability of Writer, Director, and actor.
He is one of those who brings a lot of smile on the faces of people with his outstanding comedy. He is famous in Balochistan due to his funny acting that is enjoyed and appreciated by the fans.
But the talent does not end here, because he is also a senior actor at the Pakistani drama industry. He had done lead roles in the Pakistani dramas, which is appreciated and liked by the viewers.
Videos of Habib Ullah Panezai 
Images of Habib Panezai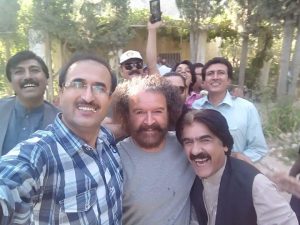 Social Accounts