Reading Time:
2
minutes
Gwadar, Balochistan – The future of Pakistan and a city that even some of Pakistanis had never heard of before, is finally taking booming agreement between Pak-China corridors, A lot of countries has invested billions of dollars in Gwadar.
It is now under development as a free trade port. After an agreement of over 248 million US Dollars in 2007 with China, Than The Gwadar Port, Which was later handed to China in 2013 – With an initial investment of over 750 Million US Dollars.
Gwadar has the proper potential to compete with UAE ports by improving the existing links to the Caspian, Thus, Providing a Better trade route to the land locked Caspian Region. 
In Short, Gwadar Could be the Next Dubai, Very, Very Soon, INSHALLAH! 
Here is How Do We Think That Gwadar Would Look Like In Just 20 Years From Now, It's Basically a #20YearsChallenge Trend. 
Pakistan's trade within South Asia will multiply by 22 ship-hangers – creating increase in import and export through Gwadar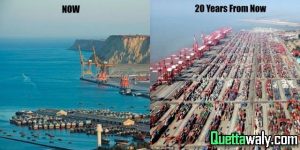 Once the new port is up and running, ships form all over the world will find resort in Gwadar whilst trading anywhere through the Arabian Sea – strategic depth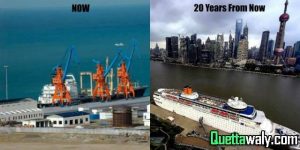 Gwadar Port will accelerate economic development and investments, both foreign and local. This, in time, will spur industrial development and port traffic and overall increase in Pakistan's economy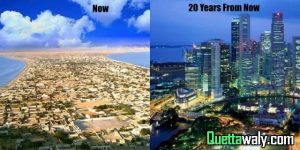 Gwadar port extends Pakistan's importance from Persian Gulf – Indian Ocean – South-East Asia – Far East. Close to Strait of Hormuz: through which more than 17 million barrels of oil passes in a day!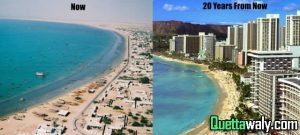 We Believe Inshallah, If the Pak-China Corridor (Which Emphasizes on Gwadar Port's Development) Goes Through, Pakistan Can Turn into United Arab Emirates or Singapore within 20 Years!
We Hope Things Will Get Better, And Hope To See Pakistan On the Top Level.