Reading Time:
5
minutes
Introducing you to the brand new Ginsoy Extreme Chinese Restaurant of Quetta, It is a contemporary fine dining Chinese restaurant that serves flavorful Chinese cuisine in a sleek & colorful environment.
The menu of Ginsoy Extreme Chinese Restaurant incorporates delicious recipes prepared with high-quality ingredients.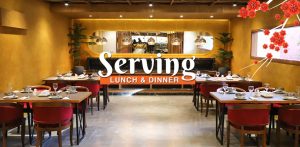 You will be able to get classic Chinese recipes with a modern touch at Ginsoy, the ambiance, food, and customer service of Ginsoy have placed it among the top restaurants of Quetta, Balochistan.
Also Read: Sorriso Cafe & Restaurant Quetta
Menu 
Soup
Chicken Corn Soup

Single Serves 1-2

Family Serves 4-5

Rs.290

Rs.760

Hot and Sour Soup (Red or White)

Single Serves 1-2

Family Serves 4-5

Rs.290

Rs.760

Thai Soup

Single Serves 1-2

Family Serves 4-5

Rs.290

Rs.760

Tom Yum Gai Soup

Single Serves 1-2

Family Serves 4-5

Rs.290

Rs.760

Tom Yum Goong Soup

Single Serves 1-2

Family Serves 4-5

Rs.350

Rs.940

Wonton Noodle Soup

Single Serves 1-2

Family Serves 4-5

Rs.290

Rs.760

Schezwan Soup

Single Serves 1-2

Family Serves 4-5

Rs.295

Rs.890

Street Style Chicken Soup with Slims

Single Serves 1-2

Family Serves 4-5

Rs.290

Rs.760

Manchow Soup

Single Serves 1-2

Family Serves 4-5

Rs.290

Rs.760
Starter
Dynamite Chicken

Single Serves 1-2

Family Serves 3-4

Rs.560

Rs.975

Dynamite Prawns

Single Serves 1-2

Family Serves 3-4

Rs.685

Rs.1205

Prawn Tempura

Single Serves 1-2

Family Serves 3-4

Rs.685

Rs.1205

Prawn Balls

Single Serves 1-2

Family Serves 3-4

Rs.630

Rs.995

Butterfly Prawns

Single Serves 1-2

Family Serves 3-4

Rs.660

Rs.1205

Prawn On Toast With Sesame Seeds

Single Serves 1-2

Family Serves 3-4

Rs.615

Rs.975

Chicken Drum Sticks

Single Serves 1-2

Family Serves 3-4

Rs.685

Rs.995

Steamed Wontons

Single Serves 1-2

Family Serves 3-4

Rs.400

Rs.740

Chicken Wontons

Single Serves 1-2

Family Serves 3-4

Rs.520

Rs.740

Chicken Spring Rolls

Single Serves 1-2

Family Serves 3-4

Rs.520

Rs.740

Chicken Egg Vegetable Roll

Single Serves 1-2

Family Serves 3-4

Rs.520

Rs.740

Spicy Garlic Wings

Single Serves 1-2

Family Serves 3-4

Rs.520

Rs.740

Fish & Chips

Single Serves 1-2

Family Serves 3-4

Rs.765

Rs.1165

Crispy Fish in Sticky Red Sauce

Single Serves 1-2

Family Serves 3-4

Rs.750

Rs.995

Dhaka Fish

Single Serves 1-2

Family Serves 3-4

Rs.750

Rs.995

Fish with Lemon Sauce

Single Serves 1-2

Family Serves 3-4

Rs.735

Rs.995

Paper Wrapped Chicken

Single Serves 1-2

Family Serves 3-4

Rs.520

Rs.740

Basket Of Fries

Family Serves 3-4

Rs.410
Poultry
Classic Chilli Chicken Dry

Single Serves 1-2

Family Serves 3-4

Rs.655

Rs.920

Classic Chilli Chicken Gravy

Single Serves 1-2

Family Serves 3-4

Rs.655

Rs.920

Chicken Chilli with lots of Veggies

Single Serves 1-2

Family Serves 3-4

Rs.655

Rs.920

Cherry Chilli Chicken

Single Serves 1-2

Family Serves 3-4

Rs.655

Rs.920

Ginsoy Special Chicken

Single Serves 1-2

Family Serves 3-4

Rs.655

Rs.920

Dragon Chicken

Single Serves 1-2

Family Serves 3-4

Rs.655

Rs.920

Kung Pau Chicken Gravy

Single Serves 1-2

Family Serves 3-4

Rs.655

Rs.920

Kung Pau Chicken Dry

Single Serves 1-2

Family Serves 3-4

Rs.655

Rs.920

Spicy Garlic Chicken

Single Serves 1-2

Family Serves 3-4

Rs.655

Rs.920

Spicy Schezwan Chicken

Single Serves 1-2

Family Serves 3-4

Rs.655

Rs.920

Hot & Spicy Chicken

Single Serves 1-2

Family Serves 3-4

Rs.655

Rs.920

Sweet & Sour Chicken

Single Serves 1-2

Family Serves 3-4

Rs.655

Rs.920

Dried Red Pepper Chicken

Single Serves 1-2

Family Serves 3-4

Rs.655

Rs.920

Black Pepper Chicken

Single Serves 1-2

Family Serves 3-4

Rs.655

Rs.920

Chicken Manchurian (Red)

Single Serves 1-2

Family Serves 3-4

Rs.655

Rs.920

Chicken Manchurian (White)

Single Serves 1-2

Family Serves 3-4

Rs.655

Rs.920

Kindo Supreme Chicken

Single Serves 1-2

Family Serves 3-4

Rs.655

Rs.920

Chicken Shashlik With Rice

Family Serves 1-2

Rs.920

Mangolian Chicken

Single Serves 1-2

Family Serves 3-4

Rs.655

Rs.920

Red Roast Chicken

Single Serves 1-2

Family Serves 3-4

Rs.655

Rs.920
Sea Food
Classic Chilli Prawn (Dry)

Single Serves 1-2

Family Serves 3-4

Rs.765

Rs.995

Classic Chilli Prawn (Gravy)

Single Serves 1-2

Family Serves 3-4

Rs.765

Rs.995

Prawn Chilli with Lots of Veges

Single Serves 1-2

Family Serves 3-4

Rs.765

Rs.995

Spicy Schezwan Prawn

Single Serves 1-2

Family Serves 3-4

Rs.765

Rs.995

Spicy Garlic Prawns

Single Serves 1-2

Family Serves 3-4

Rs.765

Rs.995

Dragon Prawns

Single Serves 1-2

Family Serves 3-4

Rs.765

Rs.995

Red Roast Prawns

Single Serves 1-2

Family Serves 3-4

Rs.765

Rs.995

Ginsoy Special Prawns

Single Serves 1-2

Family Serves 3-4

Rs.765

Rs.995

Kindo Supreme Prawns

Single Serves 1-2

Family Serves 3-4

Rs.765

Rs.995

Kung Pau Prawns

Single Serves 1-2

Family Serves 3-4

Rs.765

Rs.995

Hot & Spicy Prawns

Single Serves 1-2

Family Serves 3-4

Rs.765

Rs.995

Dried Red Pepper Prawn

Single Serves 1-2

Family Serves 3-4

Rs.765

Rs.995

Black Pepper Prawns

Single Serves 1-2

Family Serves 3-4

Rs.765

Rs.995

Classic Chilli Fish (Dry)

Single Serves 1-2

Family Serves 3-4

Rs.780

Rs.995

Classic Chilli Fish (Gravy)

Single Serves 1-2

Family Serves 3-4

Rs.780

Rs.995

Fish Chilli with Lots of Veges

Single Serves 1-2

Family Serves 3-4

Rs.780

Rs.990

Spicy Garlic Fish

Single Serves 1-2

Family Serves 3-4

Rs.780

Rs.995

Spicy Schezwan Fish

Single Serves 1-2

Family Serves 3-4

Rs.780

Rs.995

Red Roast Fish

Single Serves 1-2

Family Serves 3-4

Rs.780

Rs.995

Sweet & Sour Fish

Single Serves 1-2

Family Serves 3-4

Rs.780

Rs.985

Dried Red Pepper Fish

Single Serves 1-2

Family Serves 3-4

Rs.780

Rs.995

Kindo Supreme Fish

Single Serves 1-2

Family Serves 3-4

Rs.780

Rs.995

Hot & Spicy Fish

Single Serves 1-2

Family Serves 3-4

Rs.780

Rs.995

Black Pepper Fish

Single Serves 1-2

Family Serves 3-4

Rs.780

Rs.995

Canton Fish

Family Serves 3-4

Rs.2295

Deep Fried Red Snapper with Ginsoy Chilli Sauce

Family Serves 3-4

Rs.2195

Ginsoy Whole Fish

Family Serves 3-4

Rs.2395

Whole Steamed Fish

Family Serves 3-4

Rs.2250

Whole Fish in Tamarind Sauce

Family Serves 3-4

Rs.1995
Beef
Classic Beef Chilli Dry

Single Serves 1-2

Family Serves 3-4

Rs.745

Rs.995

Classic Beef Chilli Gravy

Single Serves 1-2

Family Serves 3-4

Rs.745

Rs.995

Beef Chilli With Lots Of Veggies

Single Serves 1-2

Family Serves 3-4

Rs.745

Rs.995

Beef & Broccoli

Single Serves 1-2

Family Serves 3-4

Rs.745

Rs.995

Crispy Beijing Beef

Single Serves 1-2

Family Serves 3-4

Rs.745

Rs.995

Beef In Black Bean Sauce

Single Serves 1-2

Family Serves 3-4

Rs.745

Rs.995

Dried Red Pepper Beef

Single Serves 1-2

Family Serves 3-4

Rs.745

Rs.995

Black Pepper Beef

Single Serves 1-2

Family Serves 3-4

Rs.745

Rs.995

Spicy Schezwan Beef

Single Serves 1-2

Family Serves 3-4

Rs.745

Rs.995

Beef in Oyster Sauce

Single Serves 1-2

Family Serves 3-4

Rs.745

Rs.995

Hot & Spicy Beef

Single Serves 1-2

Family Serves 3-4

Rs.745

Rs.995

Mangolian Beef

Single Serves 1-2

Family Serves 3-4

Rs.745

Rs.995

Sheraton Beef

Single Serves 1-2

Family Serves 3-4

Rs.745

Rs.995
Noodles & Rice
Fried Rice Chicken

Single Serves 1-2

Family Serves 3-4

Rs.580

Rs.855

Fried Rice Beef

Single Serves 1-2

Family Serves 3-4

Rs.580

Rs.995

Fried Rice Egg

Single Serves 1-2

Family Serves 3-4

Rs.435

Rs.715

Fried Rice Vegetable

Single Serves 1-2

Family Serves 3-4

Rs.435

Rs.715

Fried Rice Shrimp

Single Serves 1-2

Family Serves 3-4

Rs.595

Rs.855

Fried Rice Mix

Single Serves 1-2

Family Serves 3-4

Rs.595

Rs.890

Chicken Masala Rice

Single Serves 1-2

Family Serves 3-4

Rs.615

Rs.885

Garlic Fried Rice

Single Serves 1-2

Family Serves 3-4

Rs.615

Rs.885

Steamed Rice

Single Serves 1-2

Family Serves 3-4

Rs.300

Rs.435

Chinese Chopsuey

Family Serves 3-4

Rs.855

American Chopsuey

Family Serves 3-4

Rs.990

Chicken Chowmein

Single Serves 1-2

Family Serves 3-4

Rs.580

Rs.855

Beef Chowmein

Single Serves 1-2

Family Serves 3-4

Rs.580

Rs.855

Vegetable Chowmein

Single Serves 1-2

Family Serves 3-4

Rs.435

Rs.715

Shrimp Chowmein

Single Serves 1-2

Family Serves 3-4

Rs.580

Rs.855

Mix Chowmein

Single Serves 1-2

Family Serves 3-4

Rs.580

Rs.855

Chicken Schezwan Noodles

Single Serves 1-2

Family Serves 3-4

Rs.615

Rs.885
Drink
| | | |
| --- | --- | --- |
| Soft Drink | Can | Rs.95 |
| Mineral Water | Small | Rs.75 |
| Mineral Water | Large | Rs.120 |
| Seasonal Fresh Juice | Full | Rs.395 |
| Mint Lemonade | Full | Rs.360 |
| Mojito (New) | Full | Rs.360 |
| Lychee Daiquiri | Full | Rs.360 |
| Strawberry Daiquiri | Full | Rs.360 |
| Pina Colada | Full | Rs.360 |
| Blue Colada | Full | Rs.360 |
| Lemon Grass Twist | Full | Rs.360 |
| Blue Lagoon Margrita | Full | Rs.360 |
Location: Main Circular Road, Opposite GPO Chowk
87300 Quetta, Pakistan
Phone Number: 0333 7814241
Accounts