Reading Time:
5
minutes
QUETTA: Balochistan Board of Intermediate and Secondary Education Matric and 9th Class Results for the Year 2022 on Monday Has Been Announced.
The Students can search their results on the www.bbiseqta.com website. A total number of 132925 students participated in the exam and 115389 of them qualified for it. The percentage of successful candidates are 86.80%.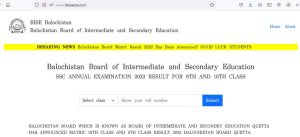 POSITION HOLDER STUDENTS FOR THE YEAR 2022 SSC EXAMINATION:
Muhammad Zahid s/o Zahid khan from BRC Zhob got the first position by securing 1046 marks.
Shamrez Khan s/o Sikandar Khan from BRC Loralai and Abdul Ghafoor s/o Meher Ali from BRC Zhob got the second position and secured 1036 marks.
Shehryar Khan s/o Muhammad Musa from BRC Loralai got the third position by securing 1034 marks.
The total number of Female candidates is half as compared to the total Male candidates who appeared in SSC Annual Exams 2022 of BBISE, the report by the Education Department says.
Matric result 2022 Balochistan Secretary BBISE Shaukat Sarpara speaks to QV
The total amount of students who appeared in matric examination Balochistan Board this year 2022 has increased when compared to the past few years.
It is good to comment that thirst for Education is increasing day by day in the province and maximum students get A1 grades in SSC and HSSC exams which decide their future.
TOP 10 POSITION HOLDERS IN MATRIC EXAM 2022 BALOCHISTAN:
R/No Position    Name                School                Marks
679944    First                          Muhammad Zahid                     BRC Zhob                                   1046
---
675672    Second                     Shamraiz Khan                          BRC Loralai                                1036
---
679942    Second                     Abdul Ghafoor                           BRC Zhob                                    1036
---
675721    Third                         Sheryar Khan                            BRC Loralai                                 1034
---
675706    Fourth                       Sami Ullah                                BRC Loralai                                  1033
---
679933    Fourth                       Ibrar-ul-haq                              BRC Zhob                                      1033
---
675668    Fifth                          Abdul Habib                              BRC Loralai                                   1030
---
675692    Fifth                          Mashood Masood                      BRC Loralai                                   1030
---
675696    Fifth                          Muhammad Haroon                    BRC Loralai                                   1030
---
675671   Sixth                          Bilal Zaib                                    BRC Loralai                                   1028
---
675732   Sixth                          Sharifullah                                     BRC Loralai                                   1028
---
675789   Seventh                      Anas Khan                                    BRC Loralai                                   1027
---
675728     Seventh                      Jahanzaib                                    BRC Loralai                                   1027
---
679946     Seventh                      Syed Shah Mardan                       BRC Zhob                                     1027
---
679935    Eight                      Shah Noor Khan                                    BRC Zhob                                  1025
---
679941    Eight                      Niamat Ullah                                          BRC Zhob                                  1025
---
675683    Ninth                      Muhmmad Abbas                                  BRC Loralai                              1023
---
675695   Ninth                      Muhmmad Haroon                                  BRC Loralai                             1023
---
675699   Ninth                      Muhmmad Tariq                                     BRC Loralai                                1023
---
675680   Tenth                      Jameel Ahmad                                    BRC Loralai                                   1021
---
679947    Tenth                      Zulqurnain Asad                                    BRC Zhob                                 1021